Welcome to Dante on Stamps, an authoritative resource and comprehensive catalog of postage stamps, first day covers, cancellations, and other philatelic items depicting the medieval Italian poet Dante Alighieri.
Featured Item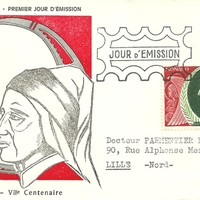 This first day cover was issued by P.A.C. The cachet features a portrait of Dante based on Giotto's portrait of the poet over a medieval style letter…
Featured Collection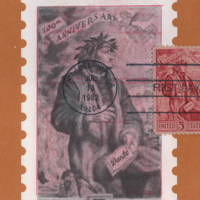 This collection contains brochures, bulletins, press material, programs, and other miscellaneous items.
Recently Added Items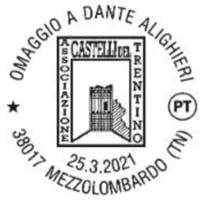 Place of cancellation: Mezzolombardo, Italy, 38017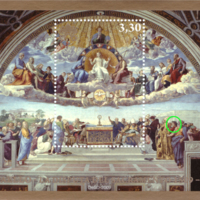 Vatican City issued this miniature sheet to commemorate the 500th anniversary of Raphael's fresco Disputation of the Holy Sacrament. Dante is depicted…