Welcome to Dante on Stamps, an authoritative resource and comprehensive catalog of postage stamps, first day covers, cancellations, and other philatelic items depicting the medieval Italian poet Dante Alighieri.
Featured Item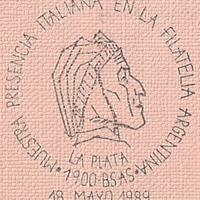 This circular cancellation features a right-facing portrait of Dante. The text around the portrait is as follows: "MUESTRA PRESENCIA ITALIANA EN LA…
Featured Collection
This collection contains brochures, bulletins, press material, programs, and other miscellaneous items.