Browse Items (11 total)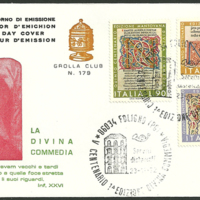 Grolla Club no. 179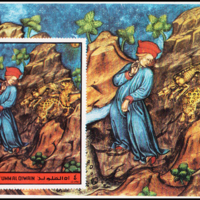 Presumably miniature sheets were issued for the entire set of 35 Umm al-Quwain Divina commedia stamps but they are difficult to find.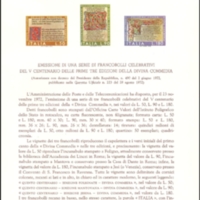 This bulletin was issued by the Italian Amministrazione delle Poste e delle Telecomunicazioni (no. 210). The bulletin includes information, written by Salvatore Accardo (and translated into French by Madeleine Cerri), about the 1972 Italy postage…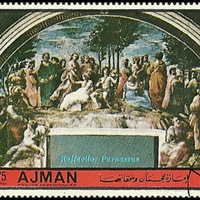 These two stamps are part of a set of six stamps celebrating paintings by Raphael. One stamp shows Raphael's The Parnassus and the other shows his Disputation of the Holy Sacrament. Both frescoes are in the Stanza della Segnatura (Room of the…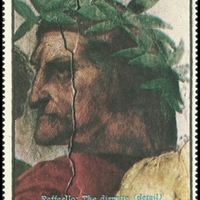 This stamp is part of a set of six stamps celebrating paintings by Raphael. The stamp shows a detail from Raphael's portrait of Dante from the artist's fresco Disputation of the Holy Sacrament in the Apostolic Palace in Vatican City. Across the…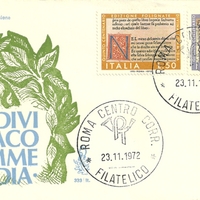 This first day cover was issued by Venetia (333/It.). The cachet features a portrait of Dante in a modern style, executed in green with text in blue: over the portrait: "DIVI / NACO / MME / DIA."; and above the portrait: "primo giorno di emissione"…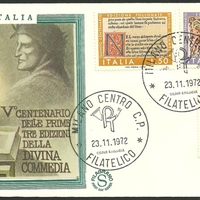 These first day covers were issued by Filagrano. The "Gold" series cachet is printed on a small sheet of rayon that is affixed to the envelope within a printed blue-green frame with "ITALIA" at the top. On the cachet itself is text as follows: "Vo…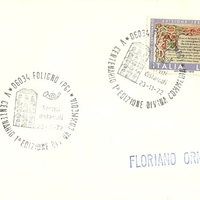 This uncacheted first day cover was postmarked in Foligno on November 23, 1972. It was owned by Floriano Ornaghi, the Italian philatelist and expert in mechanical cancellations, whose name appears stamped in blue ink.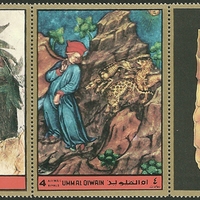 This expansive set of thirty-five air mail postage stamps was issued in 1972 by an agent under contract to the state of Umm al-Quwain. The stamps depict scenes from a number of illustrated manuscripts of the Divina commedia and other works as well as…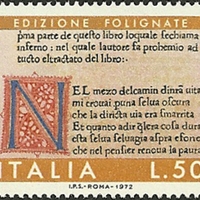 This series of postage stamps—issued during the 1972 UNESCO International Book Year—commemorates the 500th anniversary of the printing of the first three editions of Dante's Divina commedia.1 The first edition was printed in Foligno by Johann…